Worst Company Ever: Frontier Communications
By Jack Allen
Well I have seen bad companies before but I have never seen anything like Frontier Communications. First of all I had Verizon Communications for several months and had several problems with them all based on billing issues. So not a big fan of Verizon Communications but at least I got the issues resolved just to be repeated the following month but again, I got it resolved. Two days ago I get a bill from Frontier Communications stating that they took over Verizon Communications. And of course my bill was wrong and I was overcharged. I called their 800 number and of course since I live in the USA and get to talk to someone in another country (Philippines) that could not speak english and was hung up on twice. The next day I talked to someone at Frontier Communications in the United States and got hung up on another two times. One pretended to be a supervisor. I called back and got someone else who told me the deal I had with Verizon Communications is no longer valid and my price for service went up. It doubled by the way! I could not resolve my issue with this garbage company and braindead employees so I cancelled my service. I was lucky I did not have a contract, others were not so lucky. My advice is to avoid Frontier Communications and hopefully a nice class action lawsuit will shut them down. Worst customer service I have ever experienced in my lifetime.  In my opinion, Just a poorly run dumb company with zero integrity.
#frontiercommunications Tweets
Frontier holding customers to contracts during integration in Bay area
Big Headaches for Frontier Takeover of Verizon Landlines/DSL/FiOS in Texas, Florida, and California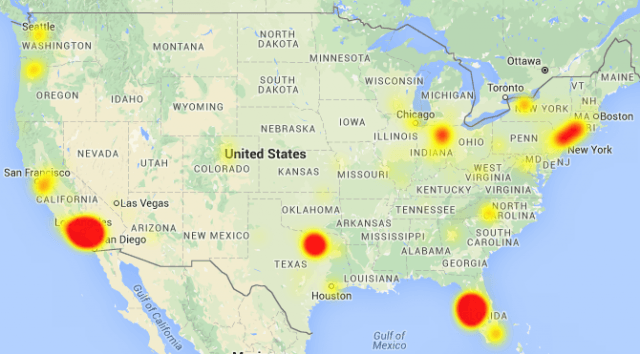 By Phillip Dampier
As of late Monday afternoon, Downdetector.com still shows widespread outages for Frontier customers in North Texas, western Florida and parts of California.
Despite promises this past weekend's transition from Verizon Communications to Frontier Communications would result in little more than "a logo change," countless customers in the affected states of Florida, Texas, and California reported long service outages, website problems, and long holds waiting to talk to customer service representatives about when service would be back.
The outages were most widespread on Friday morning, April 1, when many subscribers awoke to discover they no longer had phone, television, or broadband service. A blitz on social media directed at Frontier quickly followed on Facebook and Twitter, many summing up their first experience with Frontier to be like "dealing with a third-rate phone company."
Louise Thompson called the transition "a total fiasco" and some businesses lost thousands of dollars on Friday alone. The "Happy Grasshopper" was one of them, after losing Internet and phone service.
"We have 20 employees who can't get any work done here today," said owner Dan Stewart.
Gerard Donelan, a real estate appraiser who works from home in South Tampa, was still without service Friday afternoon. "I talked to customer service about 10:30. … He told me service was down in the Tampa Bay area, and he didn't know when it was coming back, and there was nothing he could do," Donelan told the Tampa Tribune. "What a joke. These guys were telling us just yesterday how seamless this was going to be. My next phone call is to Bright House."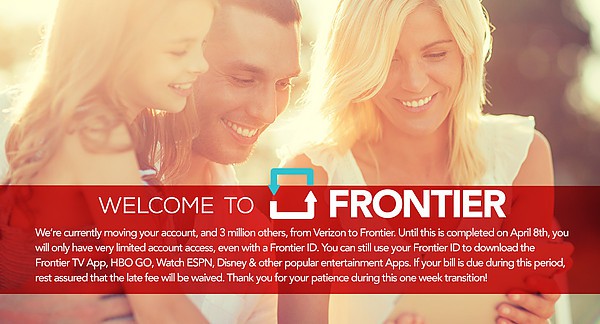 The popular Zudar's sandwich shop downtown was still unable to swipe credit cards or take phone or Internet orders at mid-afternoon. "It's having a terrible effect on business," said owner Eric Weinstein. "It's absolutely an epic failure on their part. An amazing lack of customer service and communication."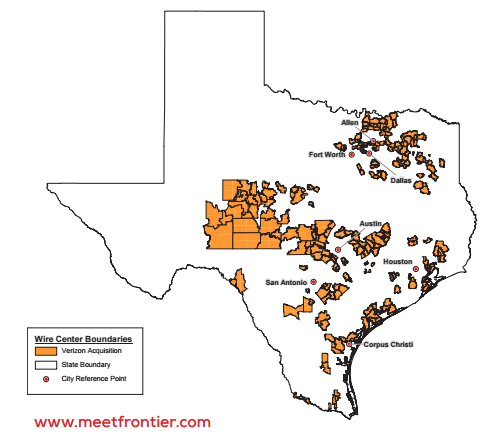 The City of Plano (Tex.) lost its website in the transition. Frontier shared its failure with AT&T mobile customers in parts of Florida, who found cell service not working because Frontier also took control of fiber links connecting many of AT&T's cell towers to AT&T's network. Many of those were down too.
"During the early morning of April 1, 2016, a technical issue occurred during the integration of the systems Frontier acquired from Verizon that impacted service to some enterprise and carrier customers in Florida, Texas and California.  As of 9:30 am eastern, the issue was resolved," the company's statement said.  "In addition, an unrelated fiber cut occurred that impacted customers in the Tampa market."
Across all three states, Frontier officials hurried to downplay the impact of the service outages, which are continuing to this day for some customers. In some statements, Frontier claimed only about 500 business customers lost service, and there were no widespread problems. But many of the 3.7 million customers in Texas, Florida and California enduring the transition say those outages and problems affect residential accounts.
"There is 'absolutely nothing widespread going on?'" asked Eric Petty, an adjunct professor at St. Petersburg College. "What a bunch of liars. How stupid do they think their customers are?"
One of the biggest problems customers are encountering is the procedure to transition their online access from Verizon to Frontier. To begin that process, customers need a new Frontier ID, but that is easier said than done if you lack landline service. As part of the registration process, customers need to enter the account PIN number usually displayed on landline bills, but often missing from broadband-only service bills.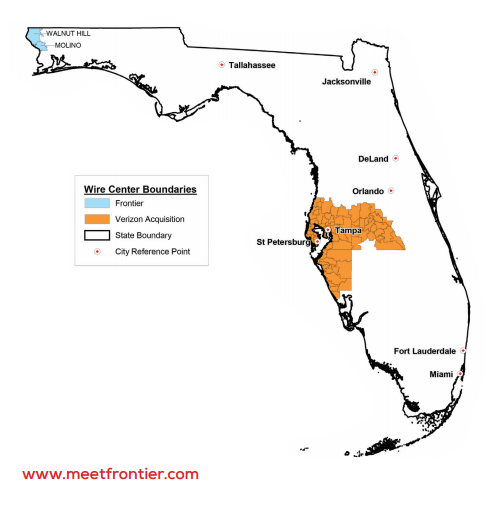 Lee Allen of Dallas was one of many frustrated customers. He spent an hour trying to manage the Frontier MyAccount registration process and when he tried to sync his Verizon and Frontier account together, it was a flop.
Two calls to Frontier customer service and still no joy reports the Dallas Morning News.
"I'm in limbo," he said Friday afternoon."I'm self-employed and work from home. They are supposed to be a technology company. They should have been ready."
Frontier says they are aware of this problem and are working on a solution.
In Los Gatos, Calif., it was an Internet-free weekend for most of the city's former Verizon Internet customers, who also lost service on Friday. As of Sunday morning, they still didn't have service, according to the San Jose Mercury News:
Los Gatos customers were assured the transition on April 1 would be smooth with no interruption to service. But that hasn't been the case, said Beau Graeber, Fenesy's neighbor who's helping him contact the company and reconfigure his Internet.

"It's a little frustrating," Graeber said, adding that Verizon — now Frontier — is the only option for Internet and telephone service in Los Gatos, outside of cable or satellite providers. "For Ralph and some of my other neighbors, it's a terrible inconvenience."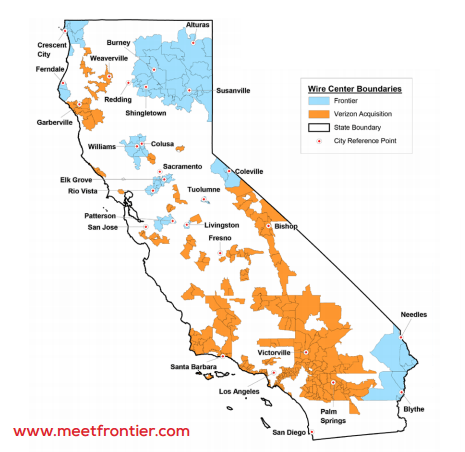 Concerned customers with bills due this week are finding they don't have enough access on Frontier's website to arrange payment of their bill. Frontier says not to worry – "Until this process is completed on April 8th, you will only have very limited account access, even with a Frontier ID," Frontier reports. "You can still use your Frontier ID to download the Frontier TV App, HBO GO, Watch ESPN, Disney and other popular entertainment Apps. If your bill is due during this period, rest assured that all late fees will be waived."
Beyond total service outages and interruptions, other customers are reporting various problems with Frontier's version of FiOS TV:
Frontier began migrating their 100,000 title On Demand library to FiOS on April 2. The process was supposed to be complete Saturday afternoon, but some customers are still having problems. Frontier: "We understand how important Video on Demand is to our customers. We apologize for the inconvenience and are working diligently to ensure the content is available as soon as possible. If you get a message that the service is 'temporarily unavailable,' you should reboot your set-top box to refresh the VOD service. To reboot, unplug your set-top box, wait at least 10 seconds, and then plug it back in. Please note, a reboot can take up to 3 minutes as the system refreshes your settings. If you continue to experience any issues accessing VOD, please call our Tech Support team at 1-877-600-1511."
The Nickelodeon Jr. FiOS TV Widget/App was retired by Nickelodeon on March 31 prior to the transition to Frontier. It is, therefore, not available. Customers can still watch Nick Jr. on their home television. Customers can also access Nick Jr.'s programming via the web, at www.nickjr.com, or through Nickelodeon's mobile apps for iOS and Android.
When searching for a Video on Demand title with the FiOS TV remote, customers may notice due to the transition from Verizon to Frontier, many of the movies and TV shows are not appearing in either "New Releases" or "Collections". However, they can be found by scrolling down to "By Title" and then selecting "All" in order to find your choice. You can also search for your VOD by selecting the "B" button on your FiOS TV remote.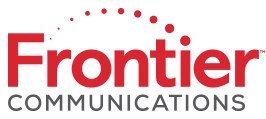 Frontier promised regulators things would go better for new Frontier customers after the company botched a similar transfer of AT&T customers in Connecticut that went so poorly, the company had to offer $50 service credits to affected customers.
"We have lessons to learn," Frontier spokeswoman Kathleen Abernathy told Connecticut regulators at the time.
"They didn't learn a thing," said Stan Rogers, a transitioned Frontier customer outside of Allen, Tex. "I was there for the Connecticut switchover two months before I moved down here and now I get to experience the same thing all over again. To give you an idea of where Frontier is on the technology curve, they have sent me information about how to transition my Verizon e-mail address to AOL. Hello!"
North Texas resident Larry Allen agrees, "I didn't think anything could drive me back to Comcast, but Frontier may do it. TV issues, email issues, Frontier can't process my information to set up an account, horrible/outdated selection of movies on demand, [and] Frontier [is] not responding to emails for assistance."

Verizon to Frontier Communications switch leaves customers in the dark

Frontier Internet Rant- Pissed off customer